Your time at university shouldn't be *all* about your studies – that's how students become burnt out and overwhelmed. Having a healthy work-life balance is really important. And having that on a budget? That's the trifecta! We've found some of the best budget-friendly things to do in Gloucester during your downtime – none of which are too far from our Blackfriars Residence.
Gloucester Cathedral
Cheap to visit and well worth seeing, Gloucester Cathedral is beautiful. This stunning building dates back to around 678 AD, and is open 365 days a year. Donations are suggested, at £5 per person, but this still makes it an affordable way to pass a few hours in Gloucester. This is definitely worth doing if you're studying history, architecture, theology and so on! But here's the real reason why so many see Gloucester Cathedral as a must-do: it formed part of the Harry Potter movie set! Fans of the franchise will definitely be able to spot some familiar spaces.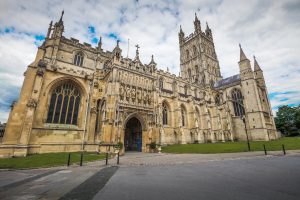 Jet Age Museum
A niche option, perhaps, but one that is free to visit and perfect if you're wanting to do something a bit different in Gloucester. It's open 10am-4pm on Saturdays and Sundays, so if you're feeling fresh at the weekend then head down and see a wide range of incredible aircraft. With open cockpits, it's so much fun.
St James City Farm
Home to goats, pigs, sheep, horses and more, this inner-city farm is a free place to visit in Gloucester city centre. Run by a charity, donations are always appreciated but absolutely not compulsory, and this is a brilliant way to enjoy some fresh air and interact with cute little farm animals – a proven stress buster if there ever was one!
Gloucester Docks
If it's local history you're after, then a walk around Gloucester Docks has a lot to offer. From the tall ships to the mariners chapel and the dry docks to the model boat display, there is so much to see here and it's a great way to pass a few hours outdoors. You'll also be close to plenty of bars so you can step inside, warm up and treat yourself to a cocktail or two…
House of the Tailor of Gloucester
Near the cathedral you'll find the House of the Tailor of Gloucester – a tiny free museum dedicated to all things Beatrix Potter. If you're an English Lit student or someone who just loves that nostalgic feeling then this is something you can't miss in the city; there are plates, books and needlecraft alongside a replica of the Tailor of Gloucester's waistcoat. Made from old wedding dresses, this took a staggering 400 hours to research and create!
Gloucester is a fantastic city with so much to explore, even on a student-friendly budget. Our Blackfriars Residence is purpose-built with all utilities included, contents insurance, en-suite and laundry facilities and regular campus buses. CityHeart Living are proud to offer this accommodation to students of the University of Gloucestershire.